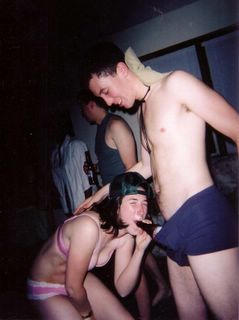 This is Katie, my good friend from freshmen year, drinking a Honey Wheat out of my boxer-briefs at Underwear Monday nights, earlier this fall.
Lest I be perceived as a kiss-and-tell, Katie was *very* drunk, we were both being silly, and she was thoroughly embarrassed the next day. It was
not
her fault.
Interestingly enough, Katie is pre-optometry student (who works for an eye-bank), and she related a story where she cut the lenses out of one of her high school newly deceased classmates earlier that day.
So she had a good excuse to for the shameless debauchery.